Average review 4.58 stars out of 5 from thousands of reviews - source reviews.co.uk
My Car Check provides up to 77 fields of data, including the number of previous owners and whether it has everhad a reg plate or colour change. This full car history check enables you to make an informed decision.
My Car Check's parent company, CDL Vehicle Information Services, performs over a million look-ups a day for companiesincluding AutoExpress, Moneysupermarket and WhatCar.
Since 2005, our vehicle check data has saved millions of motorists from making an expensive used car mistake.We also provide vehicle valuations, a great tool for haggling.
Our car checker provides up-to-the-minute data from the Police, the Driver and Vehicle Licensing Agency (DVLA)and the Association of British Insurers (ABI), as well asfrom members of the Finance and Leasing Association (FLA) and the Consumer Credit and Trade Association (CCTA).
This is the latest car data check available that includes information from the PNC (Police National Computer for recorded stolen vehicles), the DVLA and the Association of British Insurers (recorded accident damage).
The Basic Check £3.99
Stolen (Police Interest)
Write off / Total Insurance Loss (Recorded Accident Damage)
Scrapped by the DVLA
Subject to Plate Transfers
Colour Changes
They also supply you with information on:
Make and Model
Number of Former Keepers
VIN (Chassis Number) Check
Engine Number and Size
Exported/Exported
Date First Registered
Year Manufactured
Colour
Fuel
MOT Mileage History
Road Tax and MOT status
Vehicle Valuation
Performance and Economy
The Gold Check
The £9.99 Comprehensive Check details
Includes all information provided by the Basic Check but includes the all important outstanding finance check:
Outstanding finance 
At Risk (3rd party interest in it)
Bundle Offers :
5 Comprehensive Checks £30.00
12 Comprehensive Checks £50.00
20 Comprehensive Checks £75.00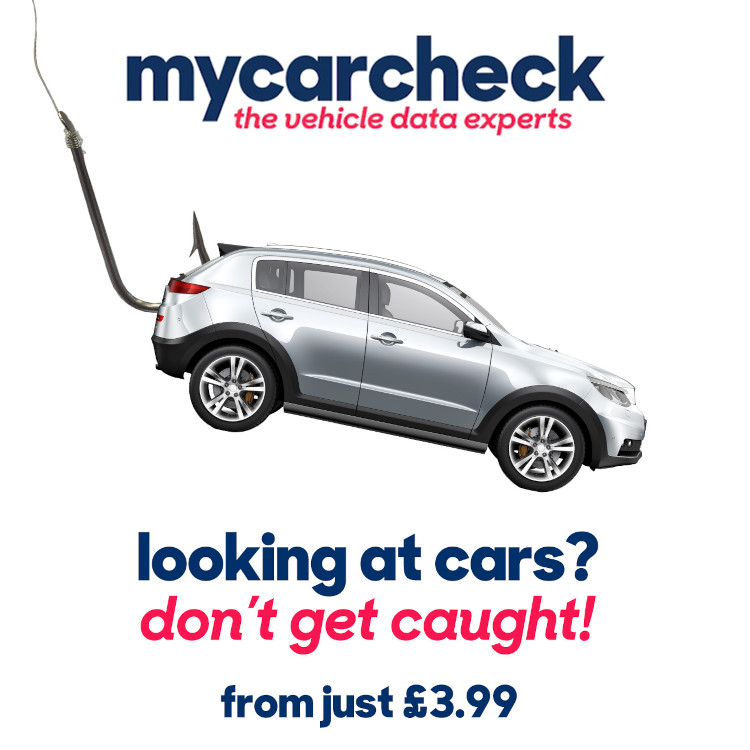 Small Print.
1. Mileage Check and Car Valuation Search subject to availability. Some vehicles may not have information available
2. Subject to terms & conditions.
Please visit mycarcheck.com  for further details on terms and conditions as we cannot gurantee the up to date accuracy of the information provided - updated 20/09/22